Happy Sunday! I hope it finds you counting your blessings as you should be, regardless of whatever misfortunes are occurring in your life. I'm taking a very positive approach these days, (something I should have been doing long ago), and I've found that each time I'm grateful for something, the universe supplies me with even more to be thankful for. So instead of worrying, I've decided to have faith, and revel in life's beauty… as cliched as it might sound. It's been working quite well so far. One of the ways in which I plan to do this is to take more time for myself, (as opposed to constantly working) to just travel, explore Jamaica (and later, the world), try new things, and try not to plan or have a structure for everything. A road trip I took to St Mary yesterday with my dear friend Ayanna and her uncle George provided the perfect opportunity for me to seize the day, and I enjoyed every millisecond. In fact, it was without question one of the most amazing, peaceful days I've had in my 26 years of existence. For those of you who aren't aware, I am a country girl from St Elizabeth, with a very 'hippie-like' way of thinking so a day like yesterday was absolutely perfect for me. Every stop, every sight and sound, and every valuable life lesson gleaned from Uncle George (a VERY wise and erudite researcher/environmentalist, and a real gentleman, might I add) throughout the course of the day.
The Road Trip…
We left Kingston in the morning and drove to St Mary via Stony Hill – Junction, our intended destination being Strawberry Fields with a couple of quick stops along the way, but ended up pencilling one or two more stops into the journey. First up… Castleton Gardens, which I'd always passed but never actually visited, so Uncle George decided to take me there. Clearly I loved it!
We continued on through Green Castle Estate where we passed Merciless, and Ayanna and I nearly got a chance to go for a ride with him, but we noticed he was injured and decided against it 🙁
From there we went on to a very innocuous looking hill (from the road), which was our first scheduled stop. We went through the barb wire and some bushes, then made the upward trek to find absolute serenity.
There were butterflies all over, and a lovely view of the sea which was a little way off. We could see all the way out to the Blue Mountains in the distance, despite the cloud cover, and all you could hear were the sounds of nature.
Naturally, we went down to the beach after a while, which was incredibly hot! But also really tranquil and pretty. We played catch (and failed miserably… I'd like to blame the wind for this), then took more photos and went on our way.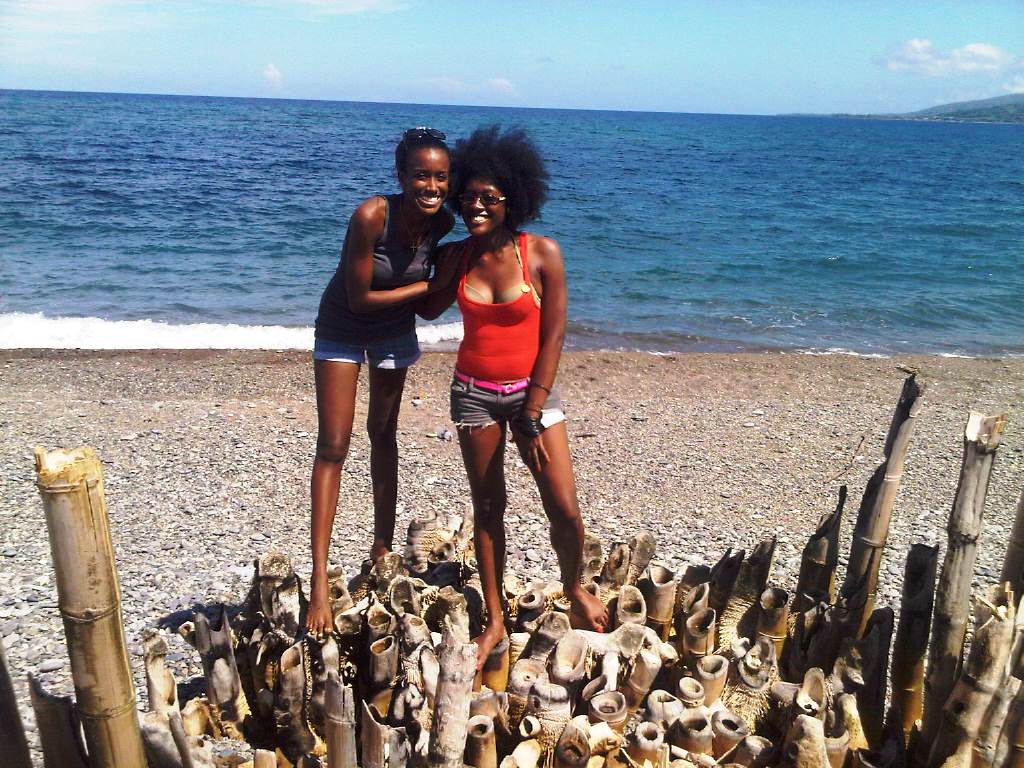 We weren't there very long, so the next stop, which Uncle George assured us would be even more breathtaking than the last, was Robin's Bay. So we drove along for about 10-15 mins and passed Don Christopher's Cove (I think that's the name)…
until we found this…
Which led to this…
Through this…
Where we found…
To the right of the cavern, and as far as the eyes could see was another even more breathtaking view from the cliffs of the Caribbean Sea in all its azul glory…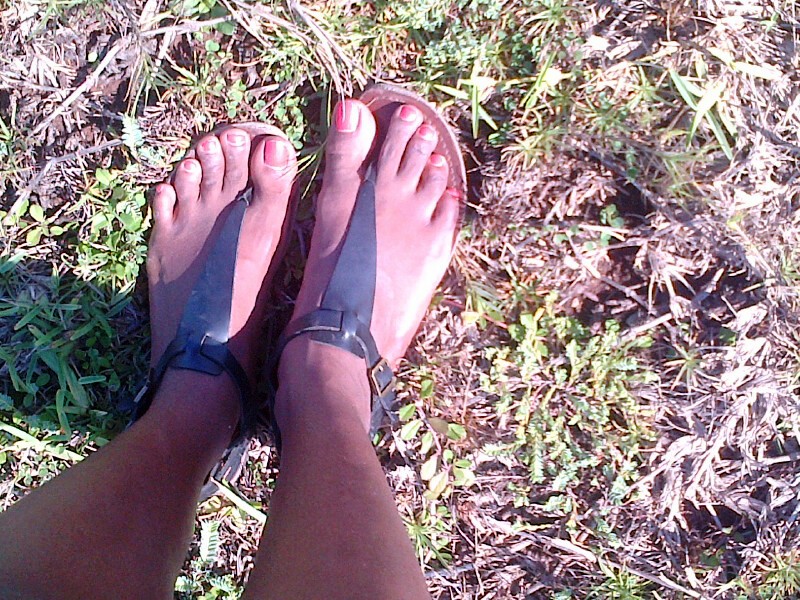 Next stop, Strawberry Fields Together.
It's a beautiful venue where you can rent cottages, or just purchase food at the restaurant, swim and chill for the day.
I SHALL return!
Uncle George then told us that we were in close enough proximity to the world-renowned Firefly, the hideaway of British Literary great, Sir Noel Coward, but might not have enough time to see it. Of course I immediately jumped on it and asked him to take us there. It was absolutely stunning!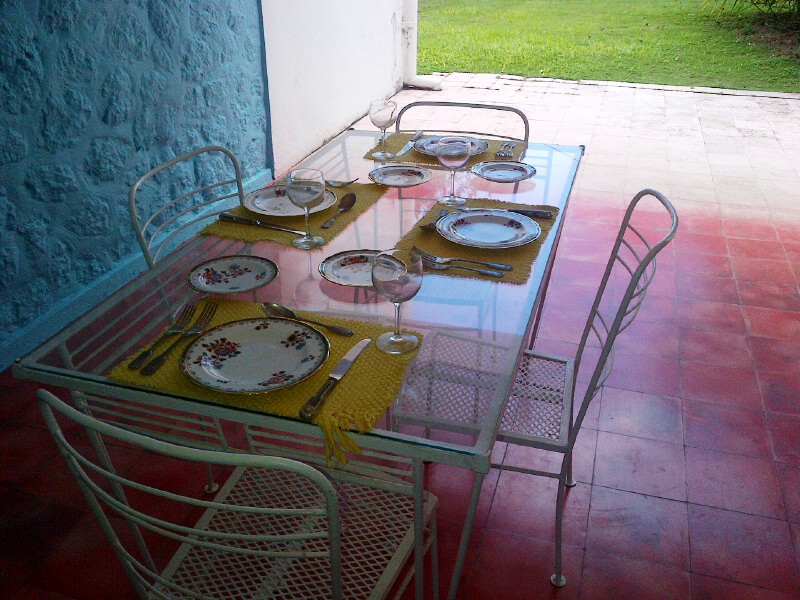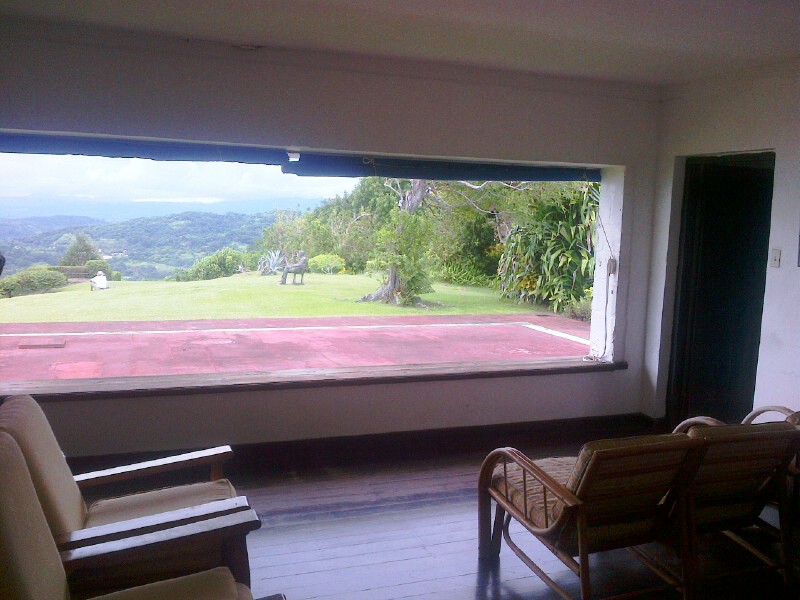 We left, albeit reluctantly, for St Mary Parish Church, which is quite a beauty.
Then drove past this island to go grab a bite to eat and head back into Kingston after a very fulfilling and enriching journey.
On the journey back, we played a couple of games and had a very thought-provoking conversation with Uncle George about life, changes, and how our experiences shape our perception and general world view. I certainly learned a lot from the discussion, but above all things, what stood out for me most (and I believe this is true for Ayanna as well) is this simple, and very powerful statement: "True happiness is a serious business."
Thanks for letting me share this experience!
Photos: via mine and Ayanna's BlackBerrys… I edited them a bit though.