Hey guys,
Life has been a whirlwind since my last post, so when my close friend Anjuli/Jessi (she's more like a sister to me actually) asked for my help with an event in Negril I gladly obliged. I went to Jamaica Tamboo two Saturdays ago to assist with getting her first party — Dirty Ambitions — off the ground.
Oddly enough, despite living in the same country, we hadn't seen each other in years… except for the occasional Skype session. I relished the opportunity to just get away from the typical hustle and bustle of Kingston, relax, sleep, clear my head and enjoy the company of well-meaning people I love. I always enjoy being in that space (ie her house in Savanna la Mar) because it's so quiet, rustic yet modern and I am always free to just be… boy did I need that!
After the party ended we spent the whole morning checking off the bar and got home at 10 am. We proceeded to play catch up all day (sans sleep), then her friend Nicky came to take us away for an after-party stress buster at around 2 pm. Obviously we were beyond exhausted but excited, since we didn't actually know where we were going. We rounded up her daughter Aria and son Syon and went on our way.
Nicky's friend Kyle drove and his sidekick whom everyone just calls 'Brown Man' also came along. I was pretty much in a daze so when we arrived and saw this scene… I was kinda thrown.
Then I heard water… lots of it. Reassurance found! My heart skipped a few beats as we trekked the slippery slope to get to what I knew by then had to be a large waterfall. Got to a 'private property, no trespassing' sign and skedaddled over the fence towards the sweet sound.
For those of you who aren't first-time readers, you know I'm a country girl and a huuuge nature buff. I just love exploring new places off the beaten path and Jamaica is full of those. I knew this one would be beautiful and soothing… just what I needed.
And then… this!
My first beautiful clue! We marvelled at it for a few minutes before deciding to climb up to where we could see at least three mini falls and another much larger one. I was immediately rejuvenated… all thoughts of sleep disappeared. Can you tell?
Up we went! The rocks were super-slippery,  the water absolutely freezing, the current strong and the air sooo fresh!
Lush greenery all around,  quite breathtaking really.  I felt scared and at home simultaneously. We were all excited so we held hands and went up stopping every now and then to look for clues about the owner or the name of the place and finding nothing. We decided to go halfway up the largest one, chill a bit then head home. So basically we were nestled somewhere around here:
Jessi and I were goofing around before she decided to go into the deeper end and entice everyone else to dive in with her.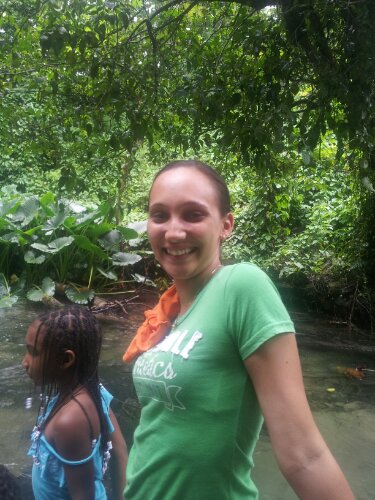 Sy was scared at first…
Baby was ready to dive in!
Aria and Nicky enjoyed the water before they realised just how cold it was…
Then she came out shivering and sniffling…
Syon enjoyed himself some more before getting scared again
Meanwhile I was being a coward so I stayed up top snapping photos and avoiding the freezing water… then everyone else decided to splash me until I was soaked from hair strand to toenails.
It was definitely an amazing experience and we all had fun. I was supremely grateful for the chance to unwind in such a beautiful and relaxing space to be at one with nature… See?
You can almost feel God in areas like that I think. I was happy to get home and tell my uncle Jeremy about our little adventure. Good thing I did, since he knew where it was and told me the name of the place. Yay!
Hope you guys enjoyed this perfect little slice of Jamaica.
Walk good until next time!