Greetings! Man, what a week!
I should have already done two more blog posts by now as my own personal contribution to raising awareness about mental health matters, seeing that it's World Mental Health Week, but alas. It hasn't exactly been a clean bill of mental health for me, so I can only do the remaining two (a very touching re-blog is coming tomorrow, stay tuned). Today's post takes a more light-hearted approach to bring the message across as many people feel uncomfortable discussing or reading about this subject, and having shared my own experiences ad nauseum,  I know it can be quite heavy sometimes.
Anyway, unless you have a heart of stone, these illustrations should help you to assess the way that you view and interact with mentally ill people, maybe even affect your general stance on mental illnesses. They're as entertaining as they are effective, which is exactly why we're going for childlike simplicity today… you're welcome.  Read on for helpful, insightful tips and stories too.
I really like this one below. You can also read this article for a deeper understanding of why it can be insensitive and offensive to use mental disorders as adjectives.
This couldn't be more perfect. It is EXACTLY what I experience. View the entire comic here on Collective Evolution.
All.of.this.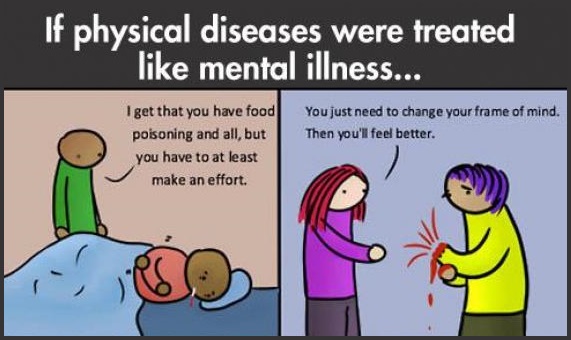 In case you didn't get it, the illustration above and making any one of these bullshit pronouncements is a really good example of how we perpetuate the stigma around mental illnesses. Try the approach below instead, I know it works for me. Note: May require multiple attempts.
And now, for those links I promised… happy weekend, by the way!
Sometimes, whether for financial or other reasons you'll need to take care of own mental health and stress. To do therapy on yourself, try Jessica Thompson's 5 psychologist-recommended tips.
Worried someone you love is at risk of committing suicide? Here's how to handle it fast.
Ever heard someone's story and wondered, but he/she is so awesome why would they want to commit suicide? Unfortunately, that's a part of the stigma. Mental illnesses don't discriminate, anyone can have them… just ask the amazingly hot Aisha Thalia… she knows.
If you're struggling with your mental health or even just need a mood boosting shot, you've got to hear this beautiful India.Arie song. Thank me later.
###