Blessed rise everyone! I'm really happy to finally publish this post having sat on it for a few months. It was originally written for the ComplexdWoman blog, so if/when they publish or I find a link to it I'll update the post so you guys can check out the original source. Tao, as you can imagine, is truly a beautiful soul – very wise and inspiring with lots of good advice to share. She is also full of love and light, so I felt very energised in her presence. It was amazing to meet and speak with her (big up to my friends Nicky & Jodi for the introduction and to Afya Yoga Studio for allowing me to use their space)! Check out her life lessons below. My apologies for not posting on Monday, life got in the way, enjoy! Note: The only image that belongs to me is the one with me in it. 
There are well over seven billion people on earth, and of that number, many simply exist without really living. At 96-years-old with an impressive cache of activities and life experiences, Guinness world record holder Tao Porchon-Lynch —the world's oldest yoga teacher—epitomises what it means to take life by the reigns. Affable, witty and soft-spoken, she is indeed an exemplar of mindfulness, gratitude and love, reminding us to connect to self and source always.
Guided by her mantra – there is nothing you cannot do – she has amassed a dizzying list of achievements both as a yogi and otherwise.  Not only has she trained and certified hundreds of yoga instructors since founding the Westchester Institute of Yoga in 1982, but she has also been practicing for well over 70 years and teaching students in India, France and the U.S. for over 50 years. The former MGM TV actress and avid humanitarian also marched with Mahatma Gandhi, helped Jews escape Nazi pursuit as a French Resistance fighter in WWII, modeled for the likes of Coco Chanel, and has won over 600 first place awards as a competitive ballroom dancer! (Say what?!)
As a master yogi, author, wine connoisseur, ballroom dancer (she was on America's Got Talent recently) and more, Tao is a ComplexdWoman in every sense. I met up with her post-teaching sessions (two in a day, no less) at Afya Yoga Studio in Kingston, Jamaica, recently for a refreshing and equally inspiring conversation on love, life and, of course, yoga…  
SS: When did you have your first encounter with yoga?
TPL: I was a very little girl… walking on the beach one day and I saw these teenaged boys doing it right there, on the beach! It intrigued me, it excited me. I didn't know what it was and I thought that it was a great new game. I loved the way it made me feel when I tried it and ran home to tell my family. When I showed them, they told me it was yoga and that girls were not allowed to do it. I knew then that I would fight for it… fight for girls to do yoga too, and that I'd never stop doing it. I would always show up to the classes with only men until they got used to it and let me in.
SS: Wow that's really interesting. I had no idea women were once prohibited. So, what do you love most about yoga?
TPL: I love everything… that one is a little hard for me. It might be the way that I have found peace and really learned to understand love and oneness through my practice… to inspire others to challenge and surprise themselves every day and to be present.
SS: And what motivates you to keep going with it rather than retiring?
TPL: I have life and it is beautiful… even if it is not perfect all the time and so many ugly things are happening around me, I am here and I have a purpose. Yoga is a celebration of life and my way of being grateful that I'm still growing and learning more about myself and the universe every day. Still able to feel the love energy of the renewing breath flowing through me.
SS: How have your life experiences influenced your yoga practice/instruction?
TPL: It is actually yoga that has affected my whole life. I am so blessed to have found my calling and that I can still do it and help others to do it every day. Yoga has taught me how to love, let go and accept without attachments and that is something that affects everything else.
SS: What is the most difficult yoga pose for you?
TPL: Right now? Well, I am getting older, so not everything is as easy for me to do, especially as I have suffered some injuries over the years. I can no longer put both my legs behind my head, but other than that there are still many poses that I am grateful and able to do.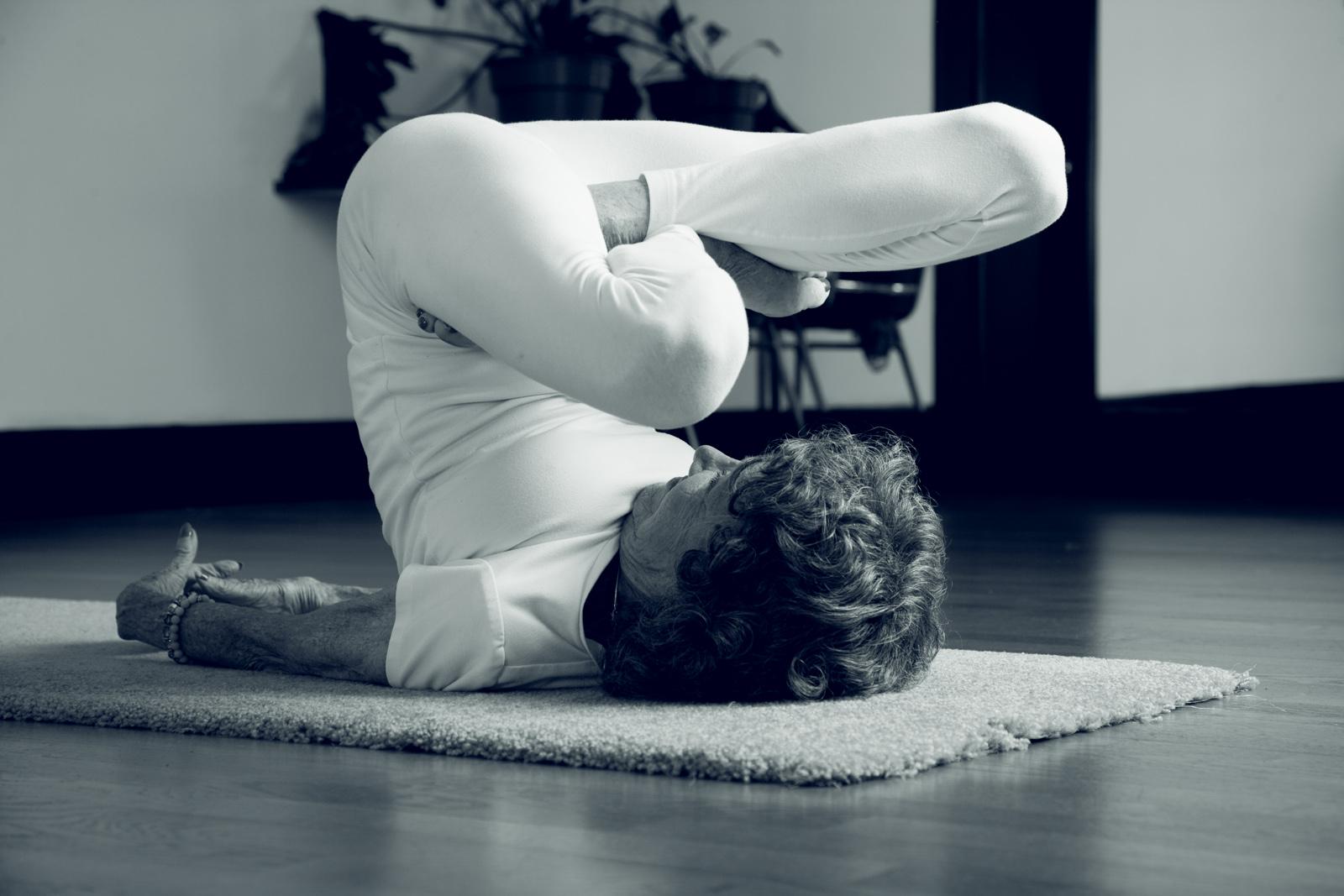 SS: What was your experience like teaching yoga with the Afya team here in Jamaica?
TPL: It has been so wonderful… Jamaica is such a beautiful place and the people are so warm and welcoming! There is a lot of love here and my hosts have been beautiful. I love the flowers here too. My two classes today — here at Afya and in the morning at the lovely Hope Gardens — were great. It is such a joy to share yoga and teach others to trust their bodies. It is always good to guide my students and show them that they can surprise themselves. It gives them a new hope I think, and the same for me too.
SS: What legacy do you most want to leave behind?
TPL: I would love for more people to understand that yoga is so much more than mastering difficult poses. It is about mastering the self and learning to trust, love, be disciplined and connect with the universe to let love and energy flow.
SS: What's your advice to up-and-coming and beginner yogis?
TPL: Practice every day, or if not, every time you get a chance. It is important to practice… that is how you grow. Allow yourself to get into the right mindset and when you keep trying, keep breathing, you will get there. Yoga is something that comes from the heart, it is love and gratitude flowing throughout. It changes you for the better –
A much younger Tao Porchon-Lynch in her MGM TV heyday.
physically, mentally and spiritually. To tune into yoga, you have to feel it by tuning in to the universe and your own energy within yourself.
SS: What would you say is the most important thing to learn about yoga?
TPL: Yoga is life, because it is the breath. It is positive energy and the life force, prana, flowing through your body. It's more important to breathe properly and to truly feel the poses in your spirit than it is to get the formation perfect every time you try a pose. Breathe, relax… get yourself in the right frame of mind first before you practice. It helps very much to go outside but if you cannot do that, light some candles. Put out some beautiful flowers and get on the mat and relax. Create a space that is yours to let go and just be free… feel the love around you, appreciate life… then you can truly do yoga.