Hi lightbeams!
Checking in to give you this quick two-for-one deal —a virtual walk through of how #MHAW16 was celebrated here in Kingston (plus the things I had to do with it) and to find out some specifics about your interests (regarding this blog) from you. I have good news and un-fantastic (but soon to change) news…
The Happenings
Good news: World Mental Health Week was observed here in Kingston, and I'd say it was the first one that has been so successful and widely observed (at least that I know of). As an active member/publicist of both Jamaica Mental Health Advocacy Network (JaMHAN) and #FaceDepressionJA, I'm so proud to have been a part of that! Plus! I also staged my first (tiny) event as the week came to a close and it went really well, so look out for more details.  'Un-fantastic' news: On the flip side, it took SO MUCH of my emotional reserves to get that done and to be the face and voice of the mentally ill that I became pretty overwhelmed and drained at the end. I've had to take a little hiatus from social media (and my apartment), and I'm still kind of on a 'mental break' too, but don't worry, I'll be back in full swing soon.
That said, please take a look at what transpired over the course of the week, complete my poll below and if you have any questions, please feel free to shoot me a quick message here. To find out more about my own initiatives, read my newsletters  and/or be part of my upcoming events, please click here to join my mailing list.
Day 1 Monday Oct 10 World Mental Health Day- JaMHAN's Embassy of the United States (in Jamaica)-sponsored media launch
Day 3 – Wednesday October 12
Day 3 – Thursday October 13
Day 4 – Friday October 14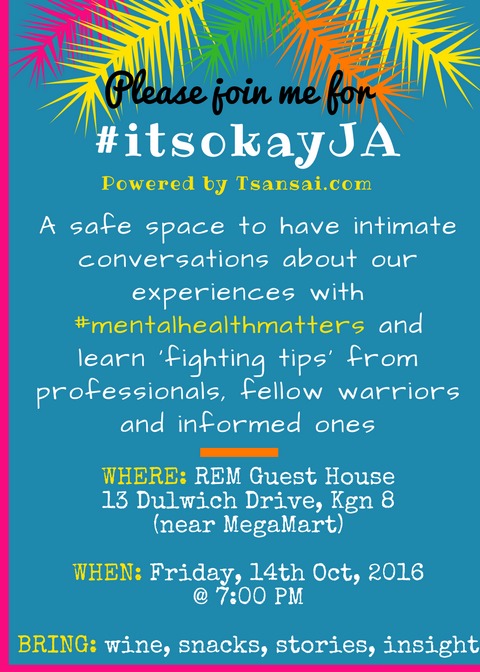 *drumroll*  Now for the poll!
         [polldaddy poll=9562722]
Remember to shoot me a quick message here if you have any questions/recommendations and click here to join my mailing list for updates on future events/initiatives of mine. Thanks as always for your support and I'll be back on Monday with a lovely guest post from USA-based fellow mental health writer at The Mighty, Simone Flynn of The Perpetual Pink Cloud. Until then, connect soon!
Love, light & blessings,
—
Tami (@tamitsansai)